What are the free online tools that we can use in our lesson? As a teacher, I have always wondered how to make my lesson engaging, effective, and enriching for my students. My answers have always been to use the free online tools. In this article, I will share with you the free online tools that teachers can use to make teaching better.
A list of free online tools for teachers:
Pollev – Group discussion & Q&A responses
SpiderScribe – Brainstorming
Remind – Communication
Wizer Me – Improved teaching materials and content delivery
Kubbu – Tracking educational outcomes
In general, each free online tool focuses on an element of teaching. Together, the free online tools shared here will help you to facilitate better group discussion, improve your communication with students and parents, make your teaching materials more interesting, and track your students learning outcomes through online assessments. Read on for the details on each free online tool and where to get them. I have also added my idea of how to combine the tools together to make your teaching better at the end of the article.
Pollev – Group discussion & Q&A responses

Website: https://pollev.com/
Pollev is short for Poll Everywhere. It is a platform that you can setup questions for your students to answer in an open-ended format or multiple-choice format. Another way I like to use Pollev is to collect students' questions. I simply create an open-ended poll response for students to add their questions there.
I find that using Pollev to collect students' questions is a great way, as students can put in their questions anonymously. This can help shy students to contribute their questions.
Ideally, I like to use Pollev to collect students' queries for their homework assignment. This way, it provides students with an option to drop their queries there as they face difficulties. And, this provides me with feedback on the assignment given. With the feedback, I can improve the assignment further. Also, it lets me know where to spend more class time to cover areas my students are struggling with.
SpiderScribe – Brainstorming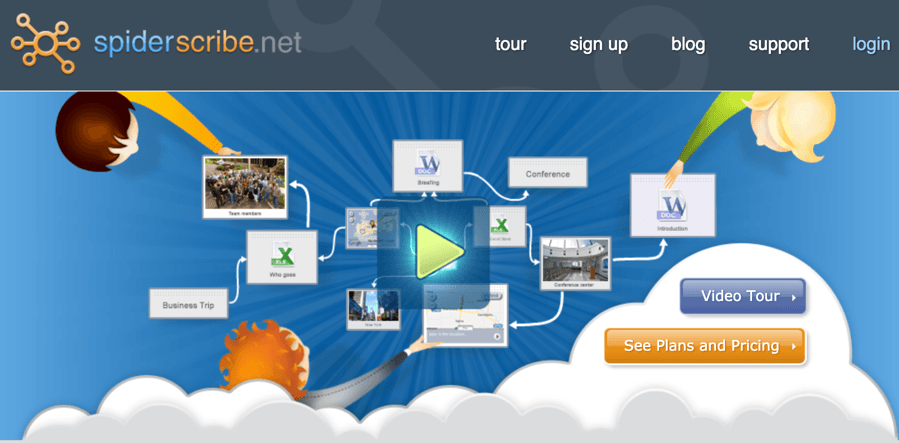 Website: https://www.spiderscribe.net/
SpiderScribe is a brainstorming tool. It has a free personal plan for non-commercial use. In the free plan, you will be given 3 Mb of files & image storage. You can select the personal plan for the free option at their "sign up" page.
You can use SpiderScribe to create mind-maps. On each mind-map, you can add images and text. Once you have finished creating your mind-map, you can choose to share the mind-map URL with your students. Additionally, you can also give editing access to your students for them to add onto the mind-map.
Another way you might consider using SpiderScribe is for group activity. You can pre-create a few SpiderScribe accounts for each group to use. In this case, you will give each group the account details for a SpiderScribe account. Then the group can discuss and present their discussion as a mind-map on SpiderScribe. Further, you can get the mind-map URL of each group and share them with the whole class.
Nonetheless, SpiderScribe is a mind-mapping tool. The visual approach of mind-map can provide a means to observe how ideas and thoughts are can be broken up. Thereby, students can clarify demonstrate their learning and clarify their doubts through a mind-mapping activity. It is also a great way to help students organize their ideas and study materials. You can recommend this tool to your students for creating mind-maps to help with their study.
Remind – Communication
Website: https://www.remind.com/
Remind is an application that allows you to communicate with students and parents quickly, safely, and in a user-friendly manner. It is free to use. You will begin by creating a class, and adding your students to it. If you want to add parents, you could do so. The process to add students or parents to your class is simple, and multiple options are provided. You can add them by email, share a link, or print a handout with instructions to join your class for distributing to your students.
With your class setup in Remind, you can now easily communicate with all your students at once. You can use Remind to remind students of upcoming tests or assignment due dates. It can be a useful communication tool for broadcasting changes to lesson. You can also use it for making announcements.
Aside from communicating with the whole class, you can also setup individual conversation with a student or a conversation with a group of students.
Ever felt tired out by the logistics of arranging a class activity, such as a field-trip? Remind also provides you with the option to setup an activity. It helps you to announce and organize the activity. If you need to collect fees for the activity, Remind can collect the money directly on their platform. That way, you save both time and hassle. Now, you can focus on the activity itself.
Wizer Me – Improved content delivery
Website: https://app.wizer.me/
Wizer Me is a platform of hosting and delivering interactive worksheets. You can join Wizer Me for free. Creating a worksheet on Wizer Me is easy and straightforward. Once you have finished creating your worksheet, you can share the worksheet to your students through Google classroom. If you do not have Google classroom setup, you can add student individually to the worksheet.
The worksheet on Wizer Me is interactive. That means your students can interact with the worksheet in a fun way. This includes the option of adding a mix and match task, which they can drag and match on their computer. There is the basic multiple-choice selection as well. You can also add video and images to make the worksheet more engaging.
A time-saving favorite for teachers would be the auto-mark feature of Wizer Me. Yes, Wizer Me can help you grade your worksheet if it is simple choice selection or mix and match. Otherwise, you can mark open-ended questions yourself and assign a grade for the student on Wizer Me itself.
Beside creating your own worksheets, you can explore the collections of shared worksheets by other teachers. It can provide you with new worksheet ideas.
Kubbu – Tracking educational outcomes
Website: http://www.kubbu.com/
Kubbu is a platform for you to create tests in the form of games, quizzes and crosswords. You can easily share your tests by your unique teacher identification created on Kubbu. After your students finish the tests, you can view and analyze the results.
You can use Kubbu to help you analyze your students' learning. Prepare a test related to your lesson and get your students to do them after the lesson. From the test results, you can determine your students' learning outcome. Find out where they have misunderstood the content taught.
Popular Combination Of Free Online Tools For Teaching
With so many free online tools for teaching, how would you use them in combination?
Here I will suggest my approach to use the free online tools mentioned above. I will begin by setting up Remind for my class, as it will allow me to communicate with students easily. For in-class group activity, I will use Pollev and SipderScribe to facilitate the session. Pollev will be used to collect ongoing student queries during the group activity. SpiderScribe will be used as a discussion tool for the group activity, whereby each group will develop their mindmap in SpiderScribe.
For homework, I like to use Wizer Me and Kubbu to create online assessment for my students. As mentioned, when I am short of ideas of engaging worksheet ideas, I like to look at Wizer Me shared worksheet for inspirations.
Conclusion
In this article, I have recommended 5 free online tools for use in teaching. However, these free online tools are not the only tools available on the Internet. There are constantly new online teaching tools being developed, so bookmark this article, as I will keep it updated as new free tools become available.
Help us make this article better, share in the comment of the free online tools you use that was missed out.
One last thing, regardless of the tools used, we need to remember that lesson planning and delivery is still the most important. Online tools cannot replace the effort and thoughtfulness required to make a great lesson happen. As teachers, we will need to bear in mind that teaching is ultimately about engagement with students that is built through great rapport.